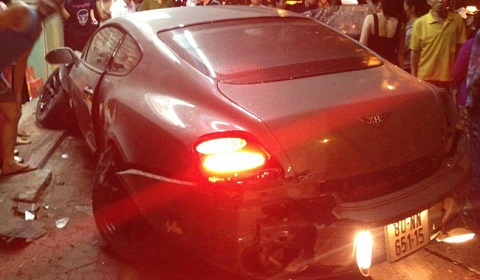 GTspirit readers have sent us pictures of a Bentley Continental Supersports that crashed recently in Hai Phong, Vietnam. The accident happened at 2 am this morning in the area of ​​Le Loi, Le Loi ward, Ngo Quyen. The silver Bentley Continental Supersports left the road, hit a tree and then a shop front. Luckily, no injuries were sustained.
The car is a total wreck though, it suffered extensive damage to the front bumper, the left side, the rear bumper, and as a result of hitting the curb, we are told that three wheels were bent. From the photos we can tell this will be a costly accident to repair. 60s tell us that this is the third Bentley to crash in Vietnam. It seems that the owner lost control, probably due to excess speed.
Our Vietnamese translation isn't brilliant, but from what we understand, the owner and driver of the vehicle left the scene shortly after the accident.
Announced at the 2009 Geneva Motor Show, the Bentley Continental Supersports is a limited production model. It features a 6.0 liter W12 engine capable of running on petrol and bio-fuel. It produces around 630hp at 6,000rpm and 800Nm of torque between 1,700-5,600rpm.
This particular Bentley Continental Supersports is one of two in the Hai Phong province. The other is a Bentley Continental Supersports Convertible in the same colours.