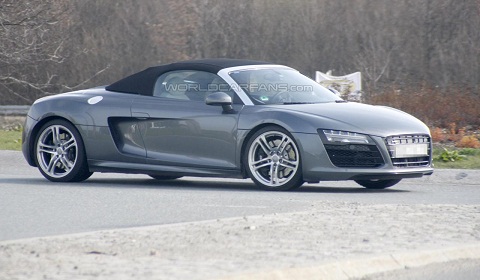 Spyshots have surfaced of an undisguised 2013 Audi R8 Spyder out testing with Audi engineers. It seems that the changes will be minimal with the only visible updates to this car being a set of full LED headlights, a slightly revised front grille and remodeled tail lights.
The 2013 Audi R8 is expected to be revealed at this years Paris Motor Show in September. The small updates will see the R8 through to 2014 when it is expected to be replaced by a second generation model. Among the changes that we can't see for the 2013 R8, improvements will be made to the chassis, power will be boosted to 540hp for the V10 model and a new seven-speed R-Tronic will debut. Expect this to be a single clutch unit produced by Graziano and based on the transmission from the Aventador.
As for the 2014 Audi R8, Audi are expected to develop an aluminium and carbon fiber platform. Carbon fiber will be used for the rear firewall, the transmission tunnel and the B-posts. Weight will be 100kg less and the body will be 13 percent stiffer. The V10 will get a 550hp figure, whilst the V8 will a 450hp power rating. Alternatively, Audi may choose to replace the V10 with the brand new turbocharged 4.0 liter V8 used in the new Bentley Continental GT V8 and the Audi S8. If so, expect around 600hp.
For more photos, please visit Worldcarfans.