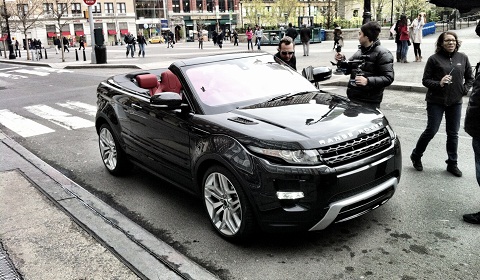 It seems that Land Rover have been using the past few days in New York to shoot the Range Rover Evoque Convertible. A GTspirit reader captured these two images of the drop-top 4×4 in Union Square on Sunday. The Evoque Convertible is due to get a US unveiling at the New York Auto Show 2012, due to start tomorrow at the Jacob Javits Center.
The Range Rover Evoque Convertible received its official debut at the Geneva Motor Show 2012. At that time bosses hoped to 'explore the potential for the world's first premium convertible SUV' with a decision to follow in the weeks following the event. It's likely that a decision has already been made, but it is the first time that American fans will get to see the topless crossover.
If Land Rover were to build it, it would be offered in the same specification as the normal Evoque. This would mean a two-wheel drive and four-wheel drive option with both the 2.0 liter i4 petrol engine rated at 240hp and the 2.2 liter i4 diesel rated at 150hp. Land Rover engineers say that taking the roof off would only add around 75kg's to the Evoque's 1,670kg weight.