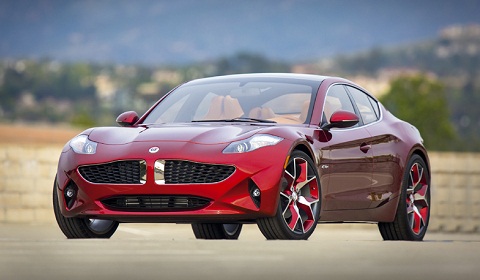 Photos of the Fisker Atlantic, codenamed the Fisker Nina, have leaked online two days before the car's official release at the 2012 New York Auto Show. We revealed a few spyshots of the model over the weekend, no though, we can get a full look at the make or break model.
The Fisker Nina will act as an entry level model for the American brand, targeting customers in the $ 50,000 and $ 60,000 price bracket. After the suspension of the second part of Fisker's $ 529 million Department of Energy loan, the Nina project looks uncertain. The car you see in these photos will not be the finished product with plenty of work still to do.
The Atlantic will be a smaller version of the Karma, sharing the same architecture and underpinnings. Visually, it looks to share many features with the stunning Karma, however, the proportions are noticeably more sensible, the design more practical and the cost at lower levels.
We suspect that Fisker will use a range-extending BMW-sourced two liter, four-cylinder engine with an electric motor in the Atlantic. It will be built at Fisker's Wilmington, Delaware instead of the Valmet, Finland site Fisker uses for the Karma. This facility is yet to be finished leaving the 2013-2014 release date for the Fisker Atlantic uncertain.