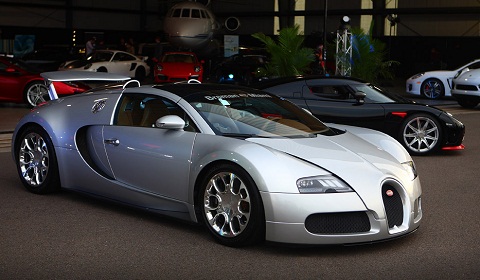 The 9th Annual Festivals of Speed started on Friday with a reception at Tampa International Airport. The traditional Luxury Lifestyle Jet Port Reception saw a gathering of supercars, motorcycles, aircraft and watercraft. Food, drink, auctions and entertainment were all on offer helping benefit Big Brothers Big Sisters Charity.
We sent Chris Grosser for a closer look at the event, the result being this amazing set of photographs! Among the luxury items on display was a Bugatti Veyron Grand Sport from Braman Bugatti, Miami's Bugatti dealership. A Koenigsegg CCXR stood alongside it with a McLaren MP4-12C, a Ferrari 430 Scuderia, a Fisker Karma, a Lamborghini Aventador, a Porsche GT2 RS and the new Porsche (991) 911 all making an appearance.
Of course, this was just the opening event of the weekend. We expect todays main event at Downtown St. Petersburg's waterfront and The Renaissance Vinoy Marina to be just as spectacular. Over 300 collectors vehicles will be present including confirmed examples from Ferrari, Rolls-Royce, Lamborghini, Bugatti, Porsche, Aston-Martin, BMW, Mercedes and McLaren.
Sunday General Admission Tickets are only $10.00 online or at the door with kids under twelve free. We suggest if you live in the area, get down there and take a look at what promises to be an excellent display!
A massive thanks goes to Chris Grosser Photography for the photos!