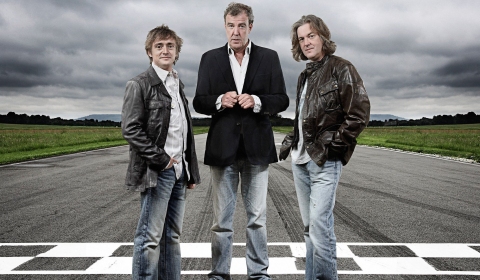 Remember when Top Gear reached 10 million fans on Facebook and they blew up a caravan? Well, that was back in January now the Top Gear team moved on to wonder what to do when they reach 15 million fans on Facebook. They asked us what would the GTspirit readers and fans like us to do? So please tell us in the comments below (no registration required)! Here are some ideas that have already been suggested:
Drift 15 1 million dollar cars in sync
Crush a Prius, then have it ground up and recycled
Get 15 Morris Marina's or Caravans. Line them up side by side and then run the over with a Challenger tank
A trip from Scotland to London on lawnmowers
Blowing up a Bugatti Veyron
An atomic explosion in the desert, on a Lamborghini Reventon
Ferrari demolition derby
Put a V8 in a reliant Robin
Race a sports car along 'The Isle of Man' TT race
A road trip.. across Germany.. in Volkswagen Beetles
What's your suggestion?