Autofficina is a respected name in the United Kingdom for servicing, restoration and race preparation of Italian sports cars. The specialist from Chessington, Surrey has made its name over recent years working on brands such as Ferrari, Lamborghini and Maserati. They have even been appointed as sole worldwide service provider for the new £250k Noble M600.
Autofficina offers a wide variety of services to owners looking for a company that shares the passion for Italian sports cars. The business is owned by car enthusiast Chris Green and his partner Elias, together they have over sixty years experience in servicing, restoring and race preparation of Italian marques.
The team operates from a 10,000 sq-ft facility south-west of London and distinguishes itself on price, up-to-date knowledge and a passion and enthusiasm to match the customer's supercar experience. They provide the same level of customer care and attention whether your vehicle is undergoing a complete nut and bolt rebuild or a simple wheel refurbishment. If they can save a customer money, Autofficina will but at every stage quality or workmanship is the most important.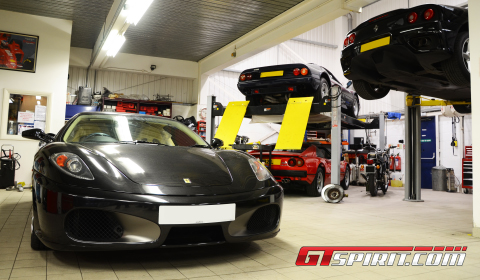 Additional services provided by Autofficina include the fitment of aftermarket exhaust systems from brands such as Larini and Akrapovic, interior refurbishment, installation of Bluetooth systems, bodywork repairs and changes, vehicle vinyl wrapping, window tinting and detailing. They are happy to custom make any parts for customers if requested. They even retail around 150 vehicles a year. In the end any customer's wish can be fulfilled by Autofficina.
A current project nearing completion is a total nut & bolt restoration of the very rare Lamborghini Islero S from the '60s, which will be completed this summer. They are also currently in negotiations with a well-known customer about the full restoration of a Ferrari 250 GTE.
Both Chris and Elias share the passion for sports cars. They can empathize with customers from experience, having owned most of the modern type of cars themselves over the past fifteen years. According to Chris, Elias is the number 1 Ferrari technician in the UK with an unrivalled reputation.
Autofficina's clientele come from all over the UK, most of them are owners of their own business, some are celebrities as well as distinguished customers. A total of 1,000 cars go through their workshop each year reconfirming the statement that Autofficina is the largest privately-owned dealership and workshop for Italian sports cars in the UK.