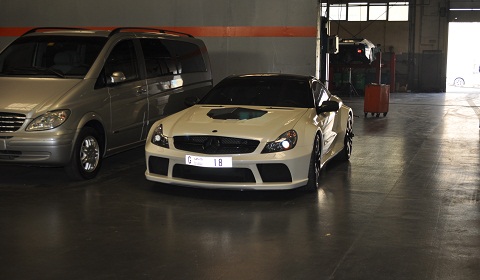 The second Brabus Stealth SL65 AMG Black Series has been spotted by the guys over at 3rabcars.com. The special edition is one of two custom Mercedes-Benz SL65 AMG Black Series produced by the German tuning company for United Arab Emirates customers. The first being the Vanish, which also went to a customer in Dubai.
The Brabus 'Stealth' SL65 AMG Black Series is an 800hp-strong street racer. The biturbo V12 in stock form produces around 670hp and 1,000Nm of torque, this version has been tuned up to 800hp. It uses the Brabus T65 RS tuning kit which includes four intercoolers, a redesigned turbocharger turbine, a new ECU and a new exhaust system.
We've previously spotted the Stealth in Paris, you can see the pictures here.