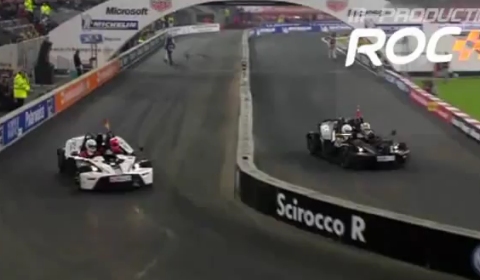 The 2011 Race of Champions is on this weekend at the Dusseldorf Esprit arena. Prior to the Race of Champions starting at 14:00 Germany local time, eight two-person teams based on their nationality compete in the ROC Nations' Cup where a team advances by going head-to-head with another country's team and winning two races out of three.
If each team wins one of the first two races, the winners of each round go head-to-head in the decider. The advancing team then goes through the semi-finals and super-finals, by which time only two teams remain. The two teams in this year's final were Team Germany and Team Nordic. This ment Schumacher/Vettel versus Kristensen/Hänninen.
Check the final below and do not forget to tune in the live stream available via our topic right here! Today you can follow the Race of Champions beteen 14:00 – 17:00 German local time.