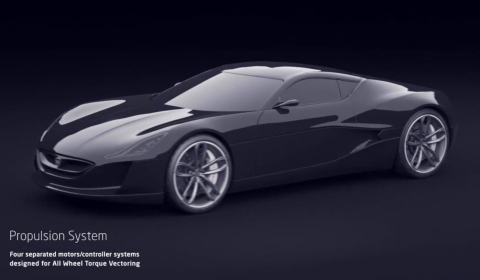 The Rimac Concept One has been created with the intention to build an exceptional supercar according to a new propulsion concept. Together with Fanatik.si we share this video with you about the brand new electric vehicle from Croatia. The EV was released at the 2011 IAA Motor Show, we give a look inside the Rimac factory.
The Rimac One Concept is driven by four independent electric motor drive units which are divided into the rear and front drive system. Both systems, at the front and rear, are separated units. Each of them include two high speed, liquid cooled inverters, and two reduction gearboxes Joined into a single and compact unit.
Sophisticated ECUs control each of those systems using the input of many precise sensors placed all over the car. Rimac calls it All Wheel Torque Vectoring (AWTV). In plain English: each wheel is independent powered by an electric motor, inverter and reduction gearbox.