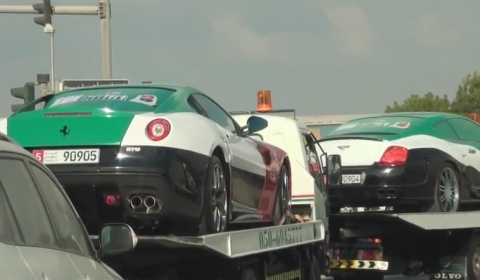 YouTube member 4WheelsofLux recorded a Ferrari 599 GTO, Mansory Mercedes-Benz G55 AMG and a Bentley Continental GT wrapped in UAE colours for the 40th UAE National Day.
The video follows two other posts shared with you today covering other vehicles wrapped in the same type of livery; a Bugatti Veyron and a Lamborghini Gallardo LP560-4 Bicolore.
The 2nd of December 2011 marks the 40th anniversary of the establishment of unity between the seven founding fathers of the United Arab Emirates. The UAE's 40th National Day celebrations are being planned as a 40-day programme. A diversity of projects and events are in preparation at a federal, emirate and local level. The key objective is to collectively celebrate this important milestone for the nation and all the people that call the UAE home.
More is coming this week, so stay tuned for more 40th National Day related videos, such as a Ferrari Parade on Friday!