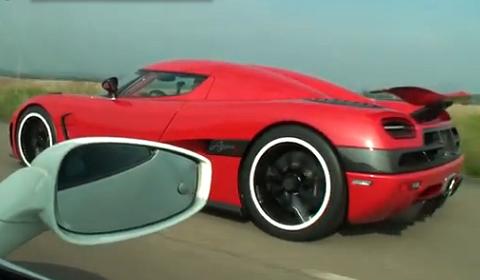 Thanks to the guys from GTboard we can show you very nice drag race videos every now and then. One of their latest is a white Ferrari 458 Italia taking its chances against a bright red Koenigsegg Agera R. A bit needless to say who won, but still two nice videos to watch.
To refresh your mind we can remember you that the Ferrari 458 Italia comes with a 4.5 liter V8 engine producing 562hp. That power lets the Ferrari sprint from standstill to 100km/h in just 3.4 seconds and sprints on to a top speed of 325km/h).
The Ferrari figures are yet very nice, but compared to the Koenigsegg we have to say we are talking about a different 'class'. The Agera R is powered by a 5.0 liter twin turbocharged V8 creating 1,115hp together with over 1,000Nm of torque. The sprint from zero to 100km/h is done in just 2.9 seconds and top speed is reached at 442km/h. Enjoy the videos!