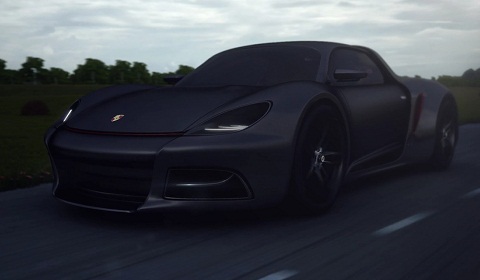 Students, Ludo Joppé, Vincenzo La Manti, Sébastien Baudemont and Thomas Pignol have come up with this jaw-dropping design for a futuristic Porsche model. The creation is named the Porsche 9P1 Concept and takes design cues from a number of modern and historic Porsche models.
The French students have created a Porsche design that uses plenty of carbon fiber, within a mid engined, rear-wheel drive design. You'll plainly see the resemblance to the Porsche Spyder 918 Concept, first presented at Geneva 2010. Proportions are roughly the same and the front and follow the same design lines. You'll also notice the 911 Turbo style air intakes over the rear arches.
Instead of using the rear end layout of the Porshe Spyder 918 Concept though, the three designers have instead looked to the historic Porsche 550. The rear extends enough to fit in the rear-mounted engine. A minimalist single entry exhaust provides the nostalgic memories of the classic 550 design.
Finally, the interior is essentially a modern update of the Porsche Carrera GT interior. The five dashboard displays remain a central feature of the cockpit, as does the large central gear tunnel. This time, it looks like Porsche Design have influenced the interior though. Gone are the clunky buttons we usually expect to see in most modern supercars. They have been replaced with a sleek, minimalist touch-screen display.
Overall, we think you'll agree that this is a very well executed piece of design work.
[Via GermanCarScene]