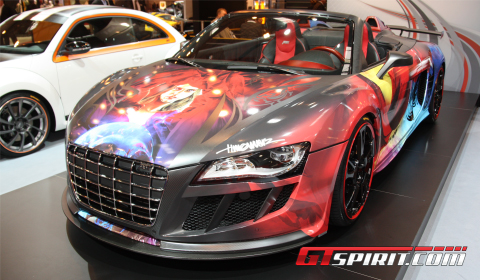 The motor show in Essen, Germany exhibits the essence of tuning. Of course, the world's largest tuner of cars from the Volkswagen Group has some attractive cars on its stand. One of those cars on display at the event is the ABT R8 V10 Spyder GTS, which got an unique wrap made together with Mattlook.com and professional artist Timo Wuerz.
Timo Wuerz designs for theme parks, shows and movies all around the world. He works for many companies huge and small creating books, CD covers, toys, stamps, posters, corporate identities, designing bars or indoor pools and whatever comes his way sparking his interest.
This roofless sports car has been shown to us many times and was released at the Geneva Motor Show in March. ABT focussed on weight reductions and the perfect distribution of weight combined with a performance improvement up to 620hp out of the stock 5.2 liter FSI V10 engine.
The complete package comes with a new front skirt, rear skirt, windscreen frame cover, red air scoops, engine bonnet and the mirrors made of carbon fiber reinforced plastic. Additional changes are the ABT suspension setup, sports exhaust system providing a nicer tune and the diffuser, rear wing and trapeze-shaped rear skirt. The front spoiler plate is adjustable, same goes for the rear wing.
Other vehicles on display are the ABT AS6 Saloon and the VW Beetle program by ABT Sportsline.