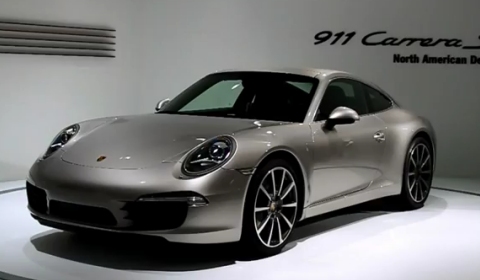 GTspirit fan Nathan Craig send us this video of the new 2012 Porsche 991 Carrera S and 2013 Porsche Panamera GTS both on display at the Los Angeles Auto Show 2011.
Just a small recap. The latest member of the Porsche family is powered by a direct injection 3.8 liter flat six which delivers 400hp and 440Nm of torque. Power is transferred to the rear wheels via a seven-speed manual transmission or the seven-speed Porsche Doppelkupplung (PDK), which improves the performance.
With the manual transmission, acceleration from nought to 100km/h is done in 4.5 seconds. The 911 Carrera S with PDK manages to accelerates to 100km/h in 4.3 seconds. Pressing the Sport Plus button on the optional Sport Chrono package cuts that to 4.1 seconds. The top speed is 304km/h.
The Panamera GTS is a new variant of the four-door autobahn cruiser, featuring a modified 4.8 liter naturally aspirated V8 engine. Power figures are up slightly from the Panamera S. The GTS gets 430hp at 6,700rpm and 520Nm of torque. That's enough for 0-100km/h in under 4.5 seconds and a top speed of 288km/h. Those are pretty impressive figures for a four-door supercar.