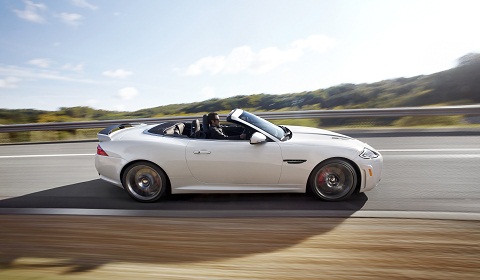 Jaguar only released the 2012 XKR-S Convertible this week at the Los Angeles Auto Show, however, reports from MotorAuthority are already suggesting that all 25 US-bound models have been sold. Whether or not this was purely on customers visiting the stands, that's still an impressive sales rate. We first received official information about the powerful drop-top Jaguar just seven days ago. Sales were no doubt induced by the wonderful white example on display at the show, starting today.
The Jaguar XKR-S Convertible features a supercharged V8 engine producing 550hp and 680Nm of torque. As far as performance goes, top speed is an even 300km/h and 0-100km/h takes just 4.4 seconds. The XKR-S Convertible is basically a drop-top XKR-S. As a result, it features the active exhaust system, lightweight aluminium structure, revised suspension and aerodynamic tweaks.
The XKR-S Convertible will sit alongside the C-X16 Production Concept at the 2011 Los Angeles Auto Show for today, 18th November, until 27th November. So if you're in the area, it's well worth a look!