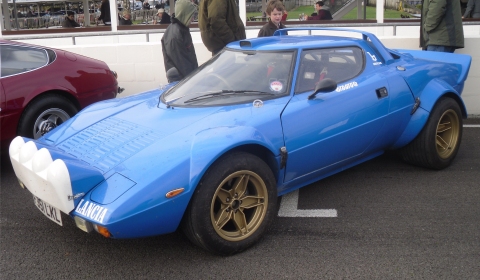 A couple of weekends ago the monthly Goodwood breakfast club held it final meeting of the year, which also happened to be its fifth birthday party. The event was held in conjunction with their normal themed meeting, which was Four Wheel Drive.
As well as providing plenty of birthday cake for the fans in attendance the organisers assembled a 'dream grid' which was made up of cars that had attended before and been crowd favourites, with the public voting for the cars they wanted to see the most. This included the Bugatti Veyron, Alfa Romeo 8C, and McLaren MP4-12C to name a few.
Fitting in with the theme of 'four wheel drive' where various 4×4 off roader's and pick ups along with more exotic and interesting cars not normally associated with the four wheel drive mantra. These include the Volkswagen Golf Country Chrome edition and Lada Niva Cossack which between them, number less than a hundred on British roads. Also in attendance was the brand new Ferrari FF, which thankfully managed not to burst into flames!
As with all these events we scoured the surrounding public car parks for gems that had either failed to make it onto the circuit or have been tucked away by their owners, below are a few that we uncovered.
This was the last 'Breakfast Club' of the year, but it will be back next year and we will be in attendance to see what turns up.