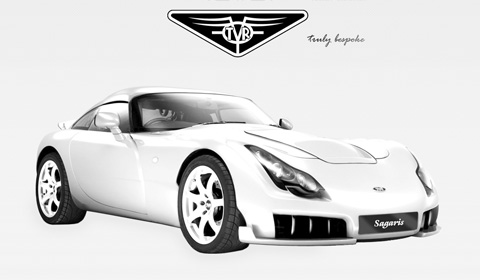 Following initial rumours about a possible comeback, it now appears that TVR has been revived and is back in business. The British marque is offering to create 'reborn and new' cars and is quite surprising, located in Austria.
Perhaps you might remember that TVR had a turbulent recent history and an uncertain future. The company has not made any new cars since 2006 and the factory closed due to financial difficulties. But now the (former?) British manufacturer of lightweight sports cars with powerful engines has launched a new website which also features a new logo.
TVR will currently emphasize at rebuilding used models with new engines and new parts. The website states that TVR offers customers to completely overhaul and upgrade their existing cars for a 'fixed price'. This applies to all models — the Sagaris, Tuscan, Tamora, T350, Cerbera, Chimaera and Griffith — and includes a new 6.2 liter LS3 GM V8 engine which delivers 426bhp and 570Nm of torque. Also part of the overhaul is an enforced five-gear gearbox at a 'fixed price'.
Also for a fixed price the company will upgrade an older Griffith model with an enforced manual 5 gear gearbox and the same V8 engine. The website says that on customer request, TVR will also source pre-owned Griffith's and give them the same treatment.
Furthermore TVR announced they will build the models Sagaris, Tuscan convertible, Tuscan MK II, Cerbera, Chimaera and Griffith to individual specifications. All cars will feature the same V8 as mentioned before, and an enforced five-gear gearbox at a fixed price!
For those who were anticipating new or upgraded models by TVR, this news might be a disappointment. Perhaps TVR will unveil a totally new model, named the TVR Tuscan 4, at the 2012 Geneva Motor Show. We'll see what the future holds for TVR. Stay tuned for more.
[Via PistonHeads]