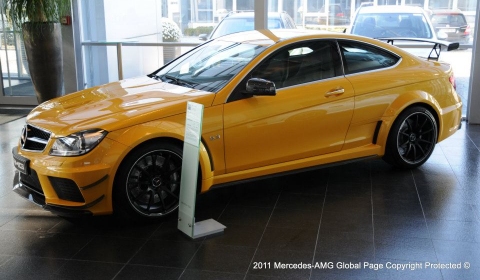 While the press launch was taking place for the Mercedes-Benz C 63 AMG Coupé Black Series in California, Mercedes-Benz showed off a very special display car painted in what they call AMG Solarbeam.
The C63 AMG Coupé Black Series is based on the Mercedes C-Coupé (C204) and designed for enthusiasts who are passionate about sports cars which are big on horsepower. This philosophy embodies the Black Series (BS) strategy, which began back in 2006 with the SLK55 AMG Black Series. Together with the CLK63 AMG Black Series and the SL65 AMG Black Series the new C63 AMG Black Series is the fourth member of the Black Series family.
Besides the spectacular and wide bodied styling the Black Series offers a 6.3 liter V8 engine producing 517hp at 6,800rpm and 620Nm at 5,000 rpm. The ultimate AMG accelerates from zero to 100km/h in 4.2 seconds. For stopping power, massive brakes discs were installed, measuring 390mm at the front with six-piston calipers, and 360mm discs at the rear with four-piston calipers.
The exclusive images were posted on the Facebook page from Mercedes-Benz AMG and we can show them to you. We also received information today that the Mercedes-Benz C63 AMG Black Series did the Ring in 7:45.
Mercedes-Benz C 63 AMG Coupe Black Series at IAA 2011