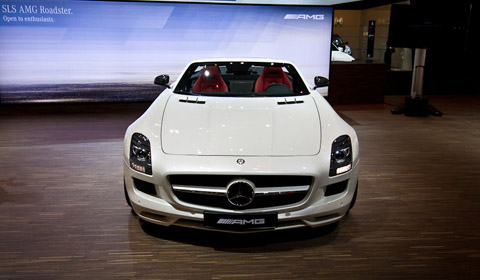 Mercedes-Benz presented the spiritual successor to the Mercedes-Benz 300SL Roadster at the 2011 Dubai Motor Show. The SLS AMG Roadster retains the same specifications, dimensions and drivetrain as the Coupe but is a more traditional convertible with a power folding fabric top and conventional doors. The Roadster features a three-ply soft top that can be raised or lowered in eleven seconds at speeds up to 50km/h.
Following the Gullwing coupe, the open-top SLS is the second car developed entirely by AMG. The roadster variant was already taken into consideration during the conceptual phase for the SLS AMG, the lightweight and extremely rigid aluminum spaceframe was specified at a correspondingly early stage.
Gallery of the Mercedes SLS AMG Roadster at the 2011 Dubai Motor Show
The engine and performance are similar to the coupe. The Mercedes SLS Roadster is powered by a 6.2 liter naturally aspirated V8 with 571 horsepower at 6,800rpm and 650Nm at 4,750rpm. Acceleration from zero to 100km/h takes 3.8 seconds, the top speed is electronically limited to 317km/h. Power is transferred to the rear wheels via a seven-speed dual-clutch transmission.
Video of the Mercedes SLS AMG Roadster at the 2011 Dubai Motor Show
[Photos by Sam Moores for GTspirit.com]