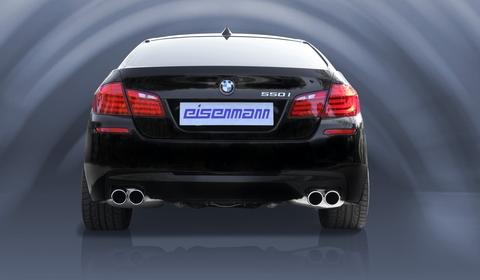 German exhaust specialist Eisenmann created an exhaust system for the 408hp-strong 550i. The 'Sport' version of the newly developed system comes with EC approval for the road as well as pure motor sports accessories in the 'Race' version for track use. Both versions are offered with either two or four tailpipes at 102mm tailpipes or four tailpipes, each 90mm in diameter.
Together with the sporty looks, the bevelled tailpipes made of double-walled stainless steel provide the ever-so-popular roaring Eisenmann sound. The 'Sport' version of the rear silencer puts the legal specifications to the limit and passes the EC sound certification. The 'Race' version with its sport exhaust system is exclusively designed for the race track and elevates the sound to a different level.
The variant with two 102 diameter tubes is available for € 1,487 while the four-pipe system with 90 mm end pipes costs € 1,606.