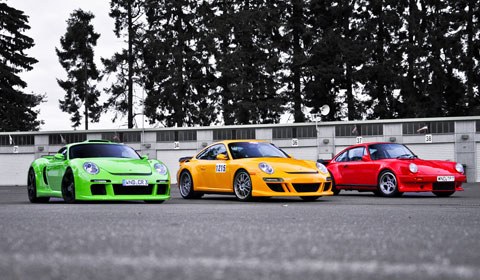 RUF has like no other gained a name and fame for building fast cars. The RUF CTR1 Yellowbird set the company on the map when it gained the record for worlds fastest production car back in 1987. 24 years later five RUF owners gathered near the famous Nurburgring Nordschleife in Germany. Our friend Jesper van der Noord was there and shot a true tribute to RUF Automobile.
The photo shoot features five different RUF models, build between 1985 and 2011 and ranging in horsepower from 469 to 750hp. The black one is a RUF Rt 12, a twin-turbo monster with 650hp. The yellow is a Rt 12 S with a further modified twin-turbo engine good for 685hp. The red RUF CTR1 is unlike its colour might suggest one of the rare and famous RUF CTR1 Yellowbirds. Its the oldest of the five but with a top speed of 340km/h still one of the faster cars on the road today. This particular Yellowbird was originally build as a RUF BTR but later converted to a RUF CTR1 Yellowbird.
The green RUF RGT-8 features RUF's own V8 engine, replacing the common Porsche flat-six engine. Unlike the other models the RGT-8 is naturally aspirated and even with the lack of turbochargers good for 550hp. The last one is the most extreme one; the RUF CTR3, with its twin-turbo flat-six engine good for 750hp.