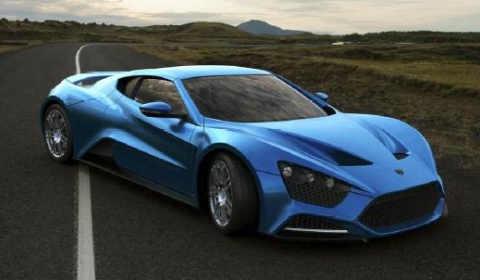 The Danish supercar Zenvo ST-1 50S has landed in the United States. The Zenvo be displayed across the US from the 2nd of November until the 20th of November. Starting in LA the 2nd and ending up in New York the 20th of November.
Production of the $ 1.8 million Danish supercar will be limited only fifteen unites and only three of them are destined for the American market. The three cars will be colored red, blue, and white. These "50S" special editions come with a little extra – even more power.
The Zenvo ST-1 is powered by a Veyron-beating 7.0 liter V8 engine with both a supercharger and a turbo. The Danish supercar develops 1,104hp of power and a massive 1,430Nm of torque. But the Zenvo ST-1 50S is upgraded to a whopping 1,250hp, an extra 146 horsepower over the other 12 Zenvos.
All that power will be transferred via 6-speed manual transmission to the rear wheels only. The Zenvo blasts itself from standstill to 100km/h in 3.0 seconds, the top speed is electronically limited at 375km/h.
Besides the extra horsepower, the three Zenvos for the American market will also come with an exclusive Swiss Aspen Zenvo watch worth $ 49,000.
For the first pictures of the Zenvo in the US, check out Jalopnik.