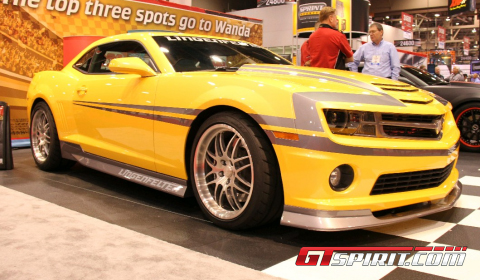 Lingenfelter Performance Engineering showcased their Twin-Turbo Camaro SS at the SEMA 2011 carshow in Las Vegas, US. The twin-turbocharged sports car has a 427 cid LS7 Twin Turbo engine, producing 800 horsepower and 800 lbs-feet of torque.
The tire smoking monster has been fitted with a wide spread of upgrades. The 2010 LS7 Camaro L28 package includes twin GT30R turbochargers in a 7.0 liter V8 that has an 8.8:1 compression ratio, an air-to-air intercooler, forged JE pistons, a GM LS7 crankshaft, titanium connecting rods, LS7 cylinder heads with titanium intake valves and Inconel exhaust valves, a Lingenfelter low-temperature thermostat, and custom Lingenfelter coil covers.
Other changes to the Camaro SS are a Lingenfelter 6-bolt LS9 twin-disk clutch and flywheel assembly, Lingenfelter Camaro SS twin-pump fuel system with Lingenfelter pump controller, heavy-duty half-shafts from Driveshaft Shop, Brembo brake calipers and rotors, a CORSA stainless exhaust, Hotchkis suspension springs, anti-sway bars, and a subframe brace.
On the outside the US tuner fitted a new front-fascia splitter, rocker extensions, a new hood with a functioning air inlet, a rear deck lip and spoiler, and a rear fascia extension. The car gets custom wheels, and Nitto 275/40ZR20 tires up front and Nitto 315/35ZR20 tires at the back.