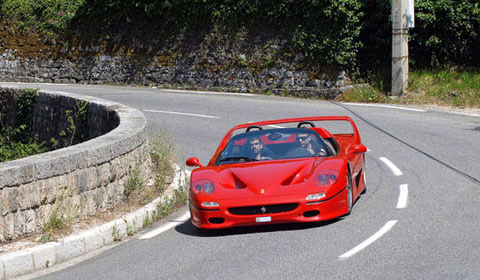 Inspired by Formula 1 technology and to celebrate the company's 50th anniversary, the Ferrari F50 was introduced in 1995. The car was marketed as a 'Formula 1 car for the road', but failed to receive the same iconic image its predecessor the F40. Also compared to the other Prancing Horse, the Enzo, the Ferrari F50 appears to be underrated.
Only 350 F50s left the Maranello production line, with 349 sold to the public and one kept in Ferrari's collection. This makes the F50 more exclusive than its brothers, the Enzo with 400 and the F40 with 1311 produced cars. The performance of the F50 is what one could expect from a Ferrari super car.
The 4.7 liter naturally aspirated 60-valve V12 engine offered 520hp at 8,500rpm and 470Nm at 6,500rpm. Thanks to this the F50 accelerates from standstill to 100km/h in 3,87 seconds, the top speed is 325km/h.
Enjoy this video of the one of the most underrated Ferrari's in history hitting the mountainous roads above Monaco. For more pictures of the Ferrari F50 (and a French review) check out V12-GT.com.
[Via Teamspeed]