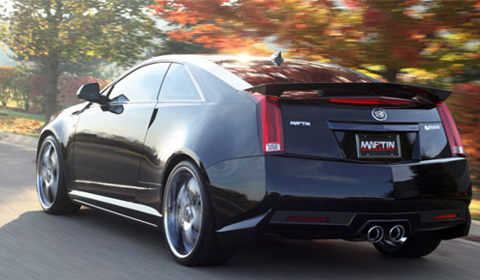 The 2011 edition of the SEMA Show is starting next week and many automotive companies will unveil their latest products at this annual event. One of them is Harold Martin Motorsports which has announced that they will be bringing its new Martin V1000 Cadillac CTS-V Coupe to Las Vegas.
Harold Martin Motorsports has upgraded the 2012 Cadillac CTS-V Coupe. The Michigan based tuner has fitted the Cadillac with a supercharged 7.0 liter V8 which offers a whopping 1,000 horsepower at 7,100rpm and a staggering 1220Nm of torque, almost similar to the Hennessey Performance Twin-Turbo CTS-V Coupe.
According to the tuner, this should propel the Cadillac from standstill to 60mph (96km/h) in 3.5 seconds. The quarter mile will be done within 10.9 seconds and the top speed should exceed the 200mph (320km/h).
Other modifications include custom intercooler setup, a full but subtle body kit, a stainless steel high-flow exhaust and 22 inch wheels. Harald Martin Motorsports is currently taking orders for their entire line of custom Cadillac vehicles.