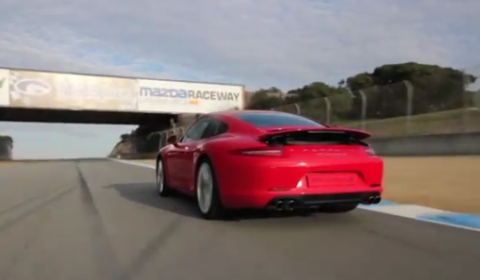 While at Rennsport Reunion IV, Rolex Grand-Am GT Champion Leh Keen, in a Porsche Cayman R, chases Porsche Works Driver Patrick Long around Mazda Raceway Laguna Seca to film shots of the 2012 Porsche 911 Carrera S in action.
Just a small recap. The latest member of the Porsche family is powered by a direct injection 3.8 liter flat six which delivers 400hp and 440Nm of torque. Power is transferred to the rear wheels via a seven-speed manual transmission or the seven-speed Porsche Doppelkupplung (PDK), which improves the performance. With the manual transmission, acceleration from nought to 100km/h is done in 4.5 seconds. The 911 Carrera S with PDK manages to accelerates to 100km/h in 4.3 seconds. Pressing the Sport Plus button on the optional Sport Chrono package cuts that to 4.1 seconds. The top speed is 304km/h.
The Cayman R comes with a tuned-up 3.4 liter six-cylinder engine developing 330hp (243kW). In the standard configuration it transmits its power to the rear wheels via a six-speed manual gearbox that propels the car from 0 to 100km/h (62mph) in 5.0 seconds. You can also get a seven-speed Porsche Doppelkupplungsgetriebe (PDK) that reduces its acceleration time to 4.9 seconds. The Cayman R can be supplied with one of the optional Sport Chrono packages, taking it to 100km/h (62mph) in 4.7 seconds. The new mid-engine coupé is capable of a top speed of 282km/h (175mph) with manual gearbox, or 280km/h (174mph) with PDK.