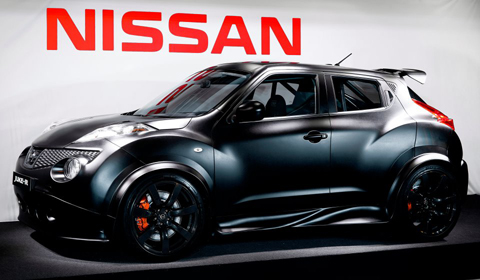 Nissan has unveiled the first official image of the Juke-R. This remarkable car based on the Nissan Juke with the drivetrain transplanted from the GT-R, has been revealed as a 'surprise guest' at an event in Malaga, Spain.
The Juke-R is based on the mini-crossover named Juke and powered by the same 3.8 liter twin-turbo V6 as the Nissan GT-R supercar. Also taken from the GT-R is the six-speed transaxle, with the front and rear ends joined by a modified GT-R 4WD driveline and prop shaft.
The car pictured here is a static version. The final version is still being built, but Nissan thought it would be a good idea to show the world what it will look like. According to the Japanese car maker, two versions are currently being built, one left-hand drive and one with the steering wheel on the other side.
Sadly production will be limited to those two cars, Nissan says it has no plans to put the Juke-R into production. The Juke-R is a concept to test the publics reaction to a seriously sporty Juke.
Nissan also has documented the progress of the engineering and building the car. The first video could be watched below, the second can viewed here and the third here.