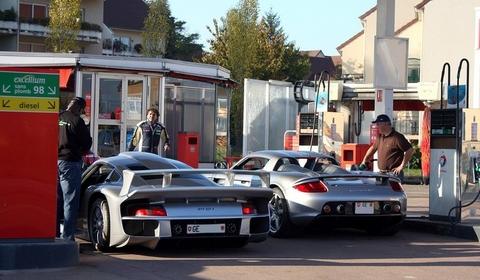 Through the last century Porsche has built several iconic cars. Most of us will agree that two of them will always be a bit more special than the others, each in their very own way. Recently those two, a 911 GT1 and a Carrera GT, were spotted together while filling up at a gasstation. We wonder how many liters of fuel were put into the tanks!
To fresh up your mind we can tell you that the 911 GT1 was built at a total of 25 cars for road use, more cars were built for competitive track use only. The engine produces a stunning 536hp. The car has a dry weight of just 1,150kg. Result of that is a sprint from standstill to 100km/h in just 3.9 seconds. Top speed is reached at 310km/h.
The Carrera GT is a totally different car using a 5.7 liter V10 engine with an output of 612hp. Sprint from zero to 100km/h is done in 3.5 seconds and the top speed is reached at 334km/h.