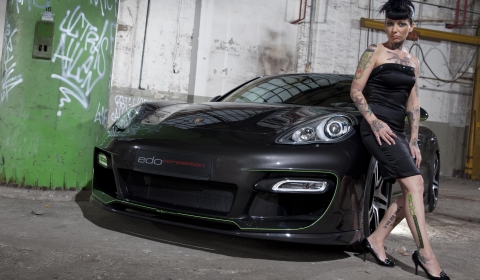 Following the release by Edo Competition of the Porsche Panamera Turbo, they released a program for the Panamera S today, named Hellboy.
The output of the Panamera's direct-injected V8 engine was increased from 400hp to 465hp. This enables the Panamera to accelerate from zero to 100km/h in 4.6 seconds and reach a top speed of over 305km/h. This increase is achieved by installing a new, pressure-monitoring and self-adjusting exhaust system with butterfly valves, newly developed header-back stainless-steel exhaust system features high-performance catalytic converters, high-flow mufflers and new tail pipes.
As a welcome side-effect, the new system is about 35kg lighter than the factory setup. It also is integrated in the new carbon fiber rear skirt. Rounding off the engine modifications are an ECU recalibration tuned on the dyno and a set of high-flow air filters.
The new carbon fiber front skirt with integrated daytime running lights also features enlarged air intakes for improved cooling. The new carbon fiber front lip increases downforce and the side skirts add to the car's side profile. A new carbon fiber rear skirt along with the diffuser and fins, new side mirrors and fender vents enhance the vehicle's aerodynamics and looks. A ducktail spoiler, reminiscent of the legendary Carrera RS, completes the picture. The aerodynamic pieces were designed and made by Vorsteiner and are compatible with all Panamera versions, be it the V6, V8 or Turbo.
To improve the car's handling and traction, Edo added ultra-lightweight forged 21 inch wheels from Vorsteiner as well. The front wheels measure 9.5×21 and use 265/35 ZR21 tires, the rears are 11×21 with 305/30 ZR21 tires. An electronic lowering module that can bring the body up to 30mm closer to the ground can be fitted on request.
And finally, Edo competition has upgraded the cabin in a number of ways. New steering wheels, center and shifter consoles, pedals, seats or custom upholstery work, the possibilities are endless and are fitted upon request.