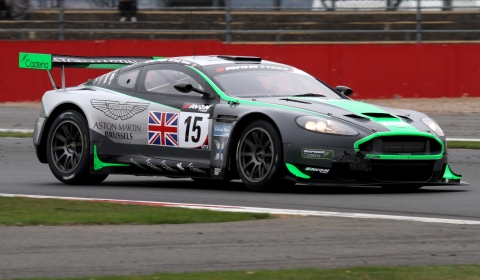 The last round of the GT series was held at the Silverstone circuit in England. The race was held on Saturday 8th October 2011. The championship is extremely close before the start of the race, with five possible championship contenders. 31 cars took to the track for the two hour race with one pit stop.
Pole position was held by No 7 Beechdean Aston Martin driven by Andrew Howard. However once the race started the No 29 Audi R8 driven by Joe Osborne took to the lead closely followed by David Ashburn's No 1 Porsche 997 and No 5 Ferrari 458 Italia.
The No 29 Audi managed to gain an 18 second advantage upto lap 21 when all cars started to make their compulsory pit stops and change of driver.
While the pit stops were taking place the Safety car came out onto the track due to the No 15's Aston martin DBRS coming off track. This gave many cars the chance to gain time, however it hindered No 21 who was held at pit lane by a red light, the Ferrari 458 Italia was running in 7th upto that point.
Once the safety car had exited the track the battled started again. This saw Zak Brown in the Audi loose his lead of 19 seconds and was soon overtaken by No 7 Aston martin who continued to win the race.
The No 7 was followed by No's Porsche 997 and No 10's Ferrari 458 who ultimately won the Championship. The GT4 class was won by ABG Motorsport's KTM No 48.