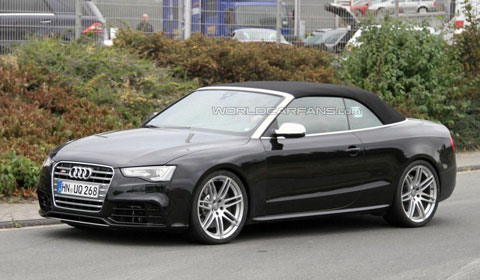 After releasing the facelift of the Audi RS5 at the 2011 IAA Frankfurt Motor Show and filing patent photos of the upcoming RS5 Cabriolet, the Germans are testing the 2012 Audi RS5 Convertible at the Nurburgring Nordschleife.
The prototype has an aggressive front fascia with LED-infused headlights, and a S5 rear bumper. The final model will have a similar bumper as the current RS5 coupe.
The open RS5 will be powered by a 4.2 liter V8 which offers 450hp and 430Nm of torque. Power will be transferred to all four wheels via a seven-speed S-tronic dual clutch transmission. Thanks to this, the car should be able to accelerate from standstill to 100km/h in less than five seconds. The top speed will be limited at 250km/h.
Check for more pictures WorldCarFans.