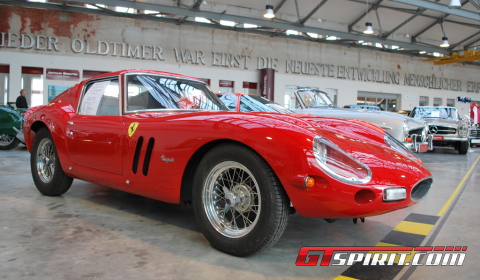 During our visit of the Meilenwerk in Stuttgart this week, we came across a really unique and tiny car. What you see here is a Ferrari 250 GTO sized 1:1,75 build by Carrozzeria Allegretti from Modena, Italy.
The ultra-small and ultra-rare car is powered by a four-cylinder 562cc Fiat Topolino engine with 21hp. It has four gears forward and one gear for reverse. The overall size of the car is only 3,10 meters and the width is 1,24 meters. The body work is aluminum.
The tiny collector's car is based on the original Ferrari 250 GTO supercar. Only 36 'real' cars were ever made in the years '62/'63. In 1964 'Series II' was introduced, which had a slightly different look. Three such cars were made, and four older 'Series I' were given a 'Series II' body. It brought the total of GTOs produced to 39.