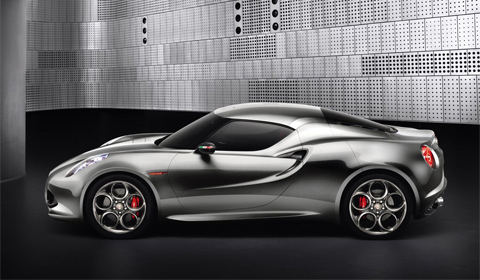 Alfa Romeo is currently working on a new turbocharged 1.8 liter engine which will provide power for the upcoming 4C two-seater sports car scheduled for 2013.
The Alfa Romeo 4C was unveiled as a concept at the 2011 Geneva Motor Show. The 4C is small lightweight rear wheel drive sports car and weighs thanks to the extensive use of light-weight materials 850 kilograms.
The new turbocharged 1.8 liter four cylinder which will provide power for the 4C boasts 296 horsepower and will meet the strict new Euro 6 air pollution regulations in Europe. This engine will be built at Alfa Romeo's Pratola Serra plant in Italy starting in 2013. Alfa has announced that the 4C will begin production in 2013 too.
It is also expected this new small and powerful engine will make into other cars like the upcoming SUV due for 2014, the replacement of the Alfa 159 and the planned successor of the Alfa 166 based on the Chrysler 300C.