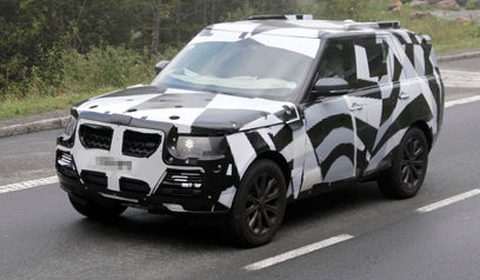 The development of the next generation Range Rover is well underway. The British model was launched in 1970 and is now in its third generation which was introduced in 2002. To take on competitors like the Porsche Cayenne, the new Maserati Kubang and the upcoming Bentley SUV the Range Rover has to be improved.
Auto Express published the latest spyshots of the upcoming luxury SUV. According to the British motoring magazine the luxurious SUV will arrive next year with lower running costs, more space and an improved performance.
The aluminium chassis will reduce the weight by a massive 500kg, resulting in a total weight of approximately 2,000kg. The powertrain will be revised as well, consisting of an 4.4 liter V8 diesel engine which offers 320 horsepower and a eight-speed automatic gearbox with stop-start system. Thanks to these upgrades, the fuel economy will be improved just as the emissions will be reduced.
The fourth generation Range Rover will also be available with a diesel powered V6 and a more impressive 5.0 liter supercharged V8. According to rumours, a hybrid is in the pipeline as well.
The design will remain essential the same, with a few changes. LED daytime running lights will be added to the new Range Rover. The edges of the car will be rounded off and the road presence will be increased. The interior will be more spacious and full of gadgets.
The new Range Rover will be unveiled at the Geneva Motor Show next March. The SUV will hit the markets in the summer of 2012. The price tag is likely to increase.
For more spyshots visit Auto Express.