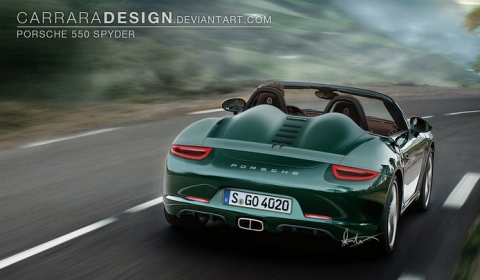 The past few months there have been rumours that Porsche is planning a successor to the 550 Spyder. Information suggests that numerous body styles are under consideration and that the basis of the setup of the sports car will include a similar roof mechanism to the Boxster Spyder, aluminum construction, and a flat-four turbocharged 1.9 liter engine.
Artist CarraraDesign decided to create a rendering of the new vehicle and the picture above is the final drawing.
Now the idea was to take elements from many of the famous mid engine Porsches from history. The most notable inspiration is from the 918 Spyder. Based on the Boxster, nearly everything was changed. The rear fenders have been boxed out much like on the 918 Spyder. The entire rear hatch has been overhauled, and there are now Speedster humps reminiscent of many mid engine Porsches. There is a spoiler running across the length of the rear, which draws its inspiration from the the Carrera GT and 918 Spyder, but wouldn't be there at all if it weren't for the new Type 991. The tail lights a similar to the 918's. The idea is that they remain holistic like the 918's but are covered by a glass lens all around. And of course they are recessed, and protrude from the fenders. Like on the 550 Spyder, I added to obligatory vents on the engine cover. And the idea here is that when you lift the rear hatch, where the trunk space usually is on the Boxster is where the roof now stores, and where the engine is, is still where the engine is, but it is fully exposed. Others things with the design include a lowered roof line, smaller proportions, and a couple of other minors details.
[Via WorldCarFans]