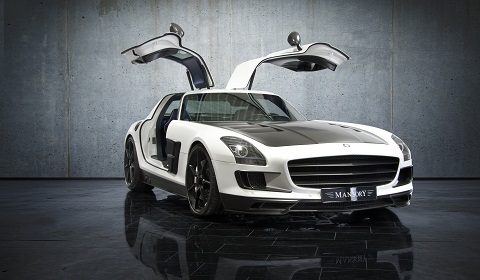 Mansory will also display a more subtle kit for the Mercedes-Benz SLS AMG at the Frankfurt Motor Show today. Again, it is a complete redesign; the engine has undergone modifications by using Mansory compressor technology, ultra-light forged wheels and an interior have also been added.
Mansory has added a number of carbon fiber components to the chassis in an attempt to improve the already-fine handling of the SLS. The new body kit includes a front lip spoiler which retains the production series bumper. A new carbon bonnet and illuminated gills are among the most radical modifications. The new side skirts allow for better air flow and the new rear lip spoiler and optimized diffuser provide additional lift for the styling package. Overall, a lot more subtle than the previous attempt.
The wheel arches have been filled with exclusively forged wheels. There are 9.5×20 inch wheels with 275/30 tyres at the front and 11.5×21 inch wheels with 295/25 tyres at the rear axle; provided by Michelin. The new suspension components and shock absorbers give the SLS a ride height, reduced by 20mm.
A high-performance compressor unit has been added to this car. A sports air filter and a stainless steel sports exhaust system complete the treatment and a new engine management map for the engine's electronic system optimizes the modifications. Power figures are now 732hp at 6,500rpm and a maximum torque of 825Nm at 5,600rpm.
Interiors can be catered to any taste. We suspect that most people will not opt for the one shown on this car!