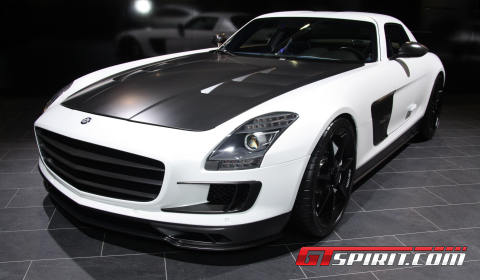 Another world premiere for Mansory at the IAA in Frankfurt. The German tuning company unveiled their customization program for Mercedes-Benz SLS AMG at the 64th International Motor Show.
Mansory has fitted the Mercedes SLS AMG with a carbon fiber body kit which improves the aerodynamic efficient and optimizes the weight. The engine has undergone modifications by compressor technology. Ultra-light forged wheels and an interior that is nothing short of automotive extravagance bring the overall redesign to a full circle.
Part of the new body kit is a front lip spoiler which reduces the lift at the front axle. The new carbon bonnet and illuminated, gills along side the wings enlighten the cars appearance. The new side skirts provide the visual link between the front and rear fenders. The new rear lip spoiler and optimized diffuser are installed to provide additional lift.
The wheel houses of the Mansory SLS are filled with forged wheels. The 9.5×20 inch wheels with 275/30 tyres at the front and 11.5×21 inch wheels with 295/25 tyres at the rear axle are provided by Michelin. Thanks to a new suspension and shock absorbers, two-seater's center of gravity is 20mm lower than the basic model.
Core of the engine modification is the installation of the high-performance compressor units. A sports air filter and a stainless steel sports exhaust system are also utilized. These components are precisely adjusted to one another with the help of a new characteristics map for the engine's electronic system. Reaching a top performance of 732hp at 6,500rpm and a maximum torque of 825Nm at 5,600rpm, the engine meets exactly what its ambitious motor sports clientèle is looking for.
As usual, the interior received an impressive overhaul. The cabin of the Mansory SLS is fitted with exclusive materials to complete the luxurious overall impression of the Mansory Gullwing.