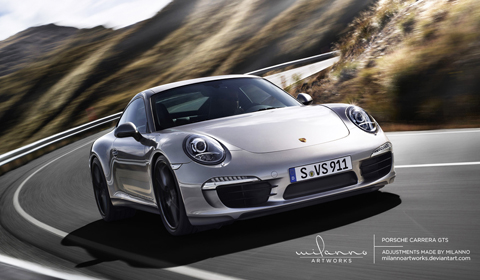 The 2012 Porsche 991 is the seventh generation Porsche 911. The replacement for the 997 will have its public debut at the 2011 Frankfurt Motor Show next week. The first models of the 991, which will enter the market are the Carrera and Carrera S. There are no doubts that other variants are in the works as well.
Our friend Milanno Artworks has made a great drawing of the future Porsche 991 Carrera GTS. The adjustments were inspired by previous versions of the Carrera GTS. These consists of an integrated characteristic GTS element on front air intakes. The lower part of the front and rear bumper, as well as the side skirts has been adjusted. Also Milanno Artworks has added side decals on the doors and four exhaust pipes. To round off the Carrera GTS, he has tinted the wheels black.
To see all Milanno's works in full resolution, please click here.