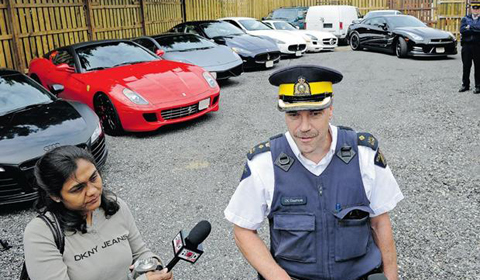 Last week we reported on the thirteen supercars seized by the Canadian Mounties last week for alleged street racing. It emerged this week that whilst the police are pleased that justice has been served through speeding tickets, the British Columbia Civil Forfeiture Office have decided to take the matter further and have commenced a civil action to confiscate the cars under Canada's strict 'street racing' laws.
In a statement given by Supt. Norm Gaumont of the Royal Canadian Mounted Police, the officer admitted that a criminal charge will not be filed against the drivers as there is no evidence. However, enough evidence has been gathered, presumably through eye-witness reports, to satisfy the lower evidential threshold for a civil case. Five owners will be facing the charges, the cars involved have not been specified. Officials didn't say why some had been ruled out of the process, but they did say they had reviewed information that included the driving histories of those involved.
Whereas the feeling last week was that a slap on the wrist and a temporary seizure of the cars would be enough to discourage the young drivers, this week, support has turned in favor of the drivers. CTV News are reporting that the British Columbia Civil Liberties Association have condemned the move and described it as "wildly disproportionate to the offense." They believe it to be a "an end run around the criminal process."
The final point to make is that the District of British Columbia has won all of the civil forfeiture cases it has pursued. Things aren't looking good for the owners of the cars. Let us know what you think of the case in the comments box below.