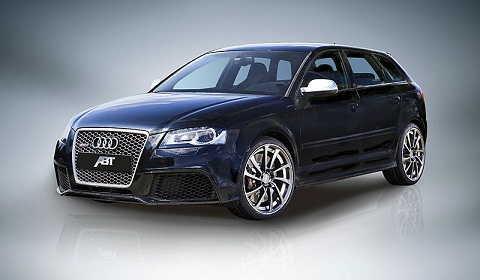 Kempten-based tuner ABT has unveiled its package for the Audi RS3. The package includes power upgrades up to 470hp and a number of aerodynamic upgrades as a well as a set of impressive 19 inch alloys. It's a relatively subtle upgrade that gives the ABT RS3 a fresh and unique look.
The ABT RS3 hits 100km/h in four seconds and carries on accelerating until it hits 285km/h. The limiters have been removed. ABT offers two packages. With the Power S technology you get an ABT turbocharger and a modified ECU, this increases the five-cylinder engines output to 470hp and 630Nm of torque. The second package is known as ABT Power, which gives you 420hp thanks in part to the twin-pipe stainless steel ABT exhaust system.
Gun-Metal rims are available in BR, DR and CR designs. Tyres are 255/30 R19 on the front axle and 225/35 R19 on the rear.