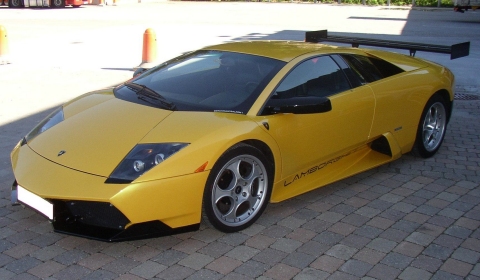 German Tuner DMC has presented their Molto Veloce body kit for the Lamborghini Murcielago. As the name indicates, DMC's design is based on Lamborghini's popular SV Edition, also called LP670. Murcielago owners will be able to add the ultra popular SV look to their super car.
To achieve greater downforce on the front, DMC offers a redesigned front and rear bumper with an integrated diffuser, "SV" style. In typical DMC tradition, all parts are being manufactured in pure carbon fiber by an Autoclave Vacuum oven. The tuner from Duesseldorf, Germany offers a complete interior make-over using carbon fiber and fine leathers.
The ECU remapping is provided to bring out those few extra horse-powers, pushing the Murcielago from normally available 572 to 600hp, while increasing torque from 479 to 495Nm. DMC's software improves power and torque by carefully refining the fuel delivery ignition time and load values as well as throttle settings which improve the overall performance.
The DMC stainless sports rear silencer (end pipe) emits an improved sound track. If that's not enough, customers can extend their exhaust system with a DMC sport metallic catalytic converter.
For information on the program contact DMC.