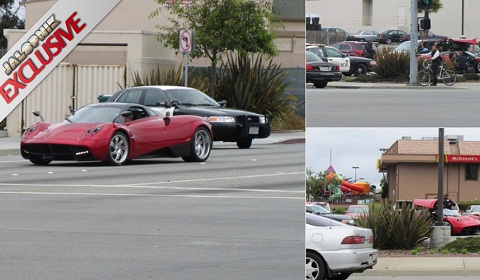 As the US is to be one of Pagani's key markets for the Huayra, Horacio Pagani brought a red model over to the Pebble Beach Concourse to display to potential customers last week. The car is yet to pass the stringent US safety tests and it seems Californian law enforcement has picked up on this. The above picture was obtained by Jalopnik and shows the red Huayra being pulled over.
Horacio Pagani was driving the car at the time. The incident appears to have been a simple stop and check with no tickets issued.
In other news, Pagani have reported to GTspirit that the car will probably be made available stateside in 2013. The delay comes because of the need for government-mandated two-stage airbags to be installed. Pagani has eight orders for the Huayra in the US and a total of seventy world-wide.