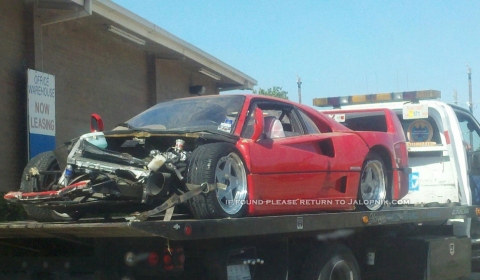 Over the weekend, Jalopnik did some research into why the Ferrari F40 we saw really crashed. The crash happened in Houston and several eye witnesses corroborate that the driver lost control at over 100km/h before plowing into the railings and destroying the nose. However, they also appear to have uncovered that the driver was not the owner, and was in fact a mechanic, out on a test drive.
The reports tend to suggest that the car was travelling between 100km/h and 160km/h when it turned down Hempstead Road and onto 34th Street in Northwest Houston. After hitting a curb, the car came to rest in the railings.
The owner had been away on a business trip in Europe after giving the car to the garage, presumably to have work done. He had owned the car from new and is said to be shocked at what has happened. The cause of the accident is not certain yet, mechanical failure has not yet been rule out. However, the car is a write-off as the tub is cracked.