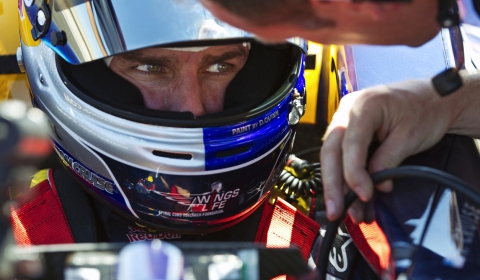 American film actor and producer Tom Cruise accepted an invitation to test drive the Red Bull Racing Formula One car in Southern California last week. David Coulthard, a 13-time grand prix winner and former Red Bull Racing driver, served as Cruise's instructor for the day with support from a twelve person crew, who flew in from Milton Keynes.
Mr. Mission Impossible reached a top speed of 181mph, just four miles per hour off of Coulthard's top speed. He drove the 850-horsepower car around the 4km Willow Springs race track in Rosamond, California. Cruise did 24 laps during the seven-hour session and he improved on his initial lap time by almost 11 seconds by the final lap. Coulthard said:
Tom's the real deal. I was surprised that he picked it up so quickly and is such an accomplished driver. His recall was incredible considering how complicated driving an F1 car is. He's a guy who really pushes the envelope in real life. This day was not green screened. He thoroughly impressed me.
Formula One returns to America in 2012 after a four-year absence. The United States Grand Prix will be held at the Circuit of the Americas in Austin, Texas, which is currently under construction.