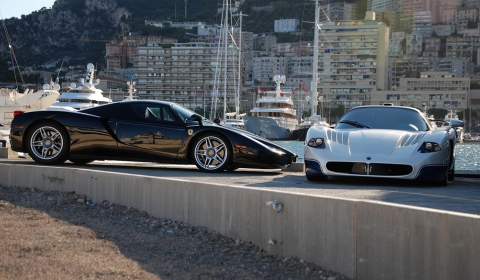 Our photo of the day is this wonderful combination between one chassis and two bodies parked in the harbor of Monte Carlo. The combo features a Ferrari Enzo and a Maserati MC12.
The Maserati MC12 is a two-seater sports car produced to allow a racing variant to compete in the FIA GT Championship. Based on the chassis of the Enzo, the MC12 is longer, wider and taller and has a sharper nose and smoother curves than the Enzo Ferrari, which has faster acceleration, better braking performance (shorter braking distance) and a higher top speed.
The car entered production in 2004 with 30 cars produced, five of which were not for sale. A further 25 were produced in 2005 making a total of 50 cars available for customers, each of which were pre-sold for € 600,000.
The Ferrari Enzo was produced between 2002 and 2004, and a total of 400 cars have been built.
The picture was made by David Benoit. Check his personal Flickr photostream via this link.