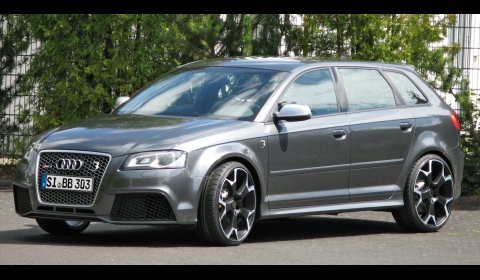 The latest development from Siegen based tuning company B&B is a complete technical package for the current Audi RS3.
The engine power increases in the strongest expansion phase up to 510hp and 680Nm. Hereby performance values on super sports car level are achieved: 0-100km/h 3.5 sec – 0-200km/h 12.5 seconds – top speed 310km/h.
The four-stage B&B engine program begins with a change in the electronics and a slight increase in boost pressure to raise the power of the 2.5 liter TFSI engine to 410hp and 560Nm. Tn Stage 2 425hp and 580Nm are reached. Here, the air induction, airflows and charge air cooling will be optimized, the boost pressure is increased by about 0.25bar and the electronic injection code fields are adjusted to these changes.
Level 3 (450hp / 600Nm) includes in addition to Level 2 a special sport exhaust system to decrease the exhaust back pressure and exhaust temperature. Furthermore, a special charge air cooling system is installed. This results in a higher power output while reducing the thermal load of the engine and exhaust gas turbocharger is achieved.
To reach the final performance in Stage 4 to 510hp and 680Nm of torque, the technicians from B&B in addition to Level 3 change the exhaust gas turbocharger to a larger special turbocharger. In addition to this, the installation of a racing exhaust system with metal catalysts, a high pressure pump and a special sports clutch is made. Finally, adjustments in the intake and engine management are carried out.
In order to reduce exhaust back pressure and exhaust temperature and improve the sound, B&B built a sports exhaust system made of solid stainless steel, which causes an additional power increase of approximately 6-8 horsepower. In addition to the increased performance, are a four- or six-piston high performance brake system, 20mm lower sports suspension springs and adjustable coilover suspension, as well as wheels in 19 inch and 20 inch available.