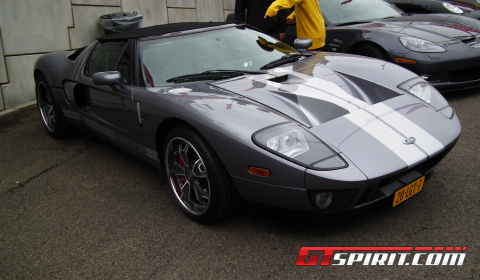 A Belgian GTspirit reader named Bastien spotted this Ford GTX-1 two weeks ago at Spa Francorchamps in Belgium. The Ford GTX-1 is a convertible version of the Ford GT released at the 2005 SEMA Show. The sports car is based on a 1966 Sebring-winning Ford GTX1 roadster as its inspiration.
One of the most innovative aspects of Ewing's GTX-1 is its configurable roof. The roof system consists of four individual hard panels. The panels can be configured as a coupe, t-top, or full convertible. The GTX1 driver won't get caught in the rain because he fitted a special fabric roof.
The Genaddi Design Group, a Wisconsin coachbuilder with experience cutting the roofs off of expensive and exotic cars, build the car.