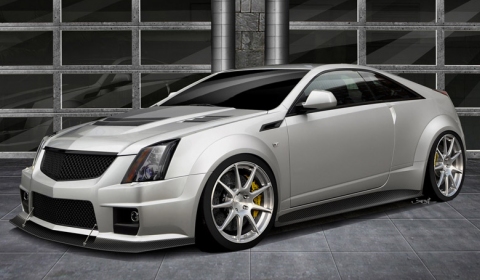 Texas tuner Hennessey Performance has just released a preview of its upcoming limited edition Twin-Turbo CTS-V Coupe model offering no less than 1,000 horsepower under the hood.
The power plant providing this enormeous amount of power is a 427 cubic-inch LS V8 with upgraded internals. The tuner added dual ball bearing turbochargers and a high-flow cylinder heads to package. The V8 engine produces 1,000bhp at 6,400rpm, 950lb-ft torque at 4,000rpm. An acceleration of 0-60mph is done in 3.5 seconds, a quarter mile in 10.9 at 136mph and the top speed is reached at 230mph.
Other ugrades include 15 inch carbon ceramic brakes, a fortified transmission, lowered suspension, 20 inch Hennessey Monoblock Wheels, Hennessey's CarbonAero widebody kit, and interior upgrades. The CarbonAero CTS-V widebody kit features a carbon fiber front splitter, carbon fiber rear diffuser, carbon fiber front fenders, carbon fiber extractor hood and carbon fiber rear fender flares.
On top of this buyers will also receive an one day track experience with retired General Motors test driver supreme John Heinricy. Only twelve of these unique CTS-V sports cars will be build.