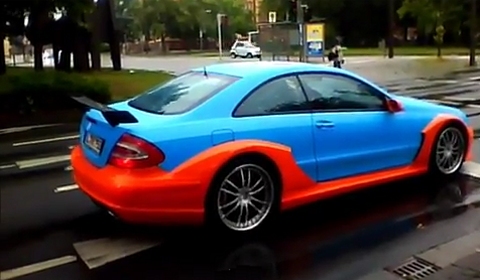 The Mercedes CLK AMG DTM is a special version of the CLK, which looks similar to the full race car for the German Deutsche Tourenwagen Masters racing series. The racer had to use a normally aspirated 4.0 liter V8, limited to less than 500hp.
Only 100 Coupés and 80 Convertibles were released for sale in Europe, using AMG's supercharged 5.4 liter V8, producing 582hp and 800Nm. The front and rear track were widened by 74 and 110mm respectively, and special tires and suspension modifications allow the car to pull 1.35G of lateral acceleration. 0-100km/h acceleration is just 3.8 seconds, and top speed is limited to 322km/h.
On owner of a CLK AMG DTM added an unique color trim to the vehicle. The Gulf livery is known to us all, but does it fit to this Mercedes-Benz CLK AMG DTM?